Task-specific methods are those that one person can use to improve their own work processes, such as organizing methods for materials and tools, standard work to improve the speed and efficiency of execution, or the 8 Wastes as a lens for recognizing inefficiencies or misused resources.
Task-specific
8 Wastes
A simple method to introduce the idea of recognizing waste effort and resources that detract from producing value in work that is performed.

Standard Work
Creating consistent processes and techniques for how work is performed based upon best practices.

5S
An approach for workplace organization and maintaining visual control. The "S" stands for: Sort, Set-in-order, Standardize, Shine, and Sustain.

Kitting
Sorting, grouping and packaging separate but related items together to reduce packaging and waste at the workface.
Reducing Variability Through Standard Work and Kitting at Rosendin Electric
Background
Due to the specific nature of electrical construction, large-scale or large modular assemblies can be impractical to implement for building construction. Rosendin Electric – an electrical contractor in Sterling, VA – has found that the scale and specific scope of prefabrication are directly affected by the project GC's approach to managing the schedule.
High levels of uncertainty in the workflow reduce the benefit of using prefabrication and often lead to either rework of the materials or increased inventory at the project, which slows down production.
Rosendin has slowly evolved its approach to prefabrication to support the field electricians as their internal clients. Regardless of the specifics, common elements can usually be prefabricated. This reduces the number of pieces an electrician needs to handle for each task, groups and carts the assemblies or parts to reduce a worker's time fiding and transporting the necessary pieces, and focuses on the enabling tasks to streamline field installation.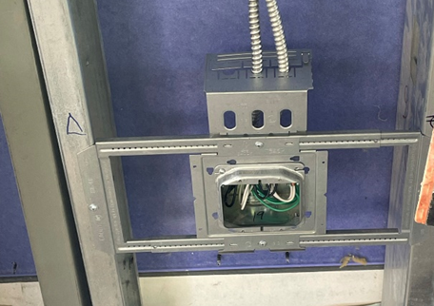 To simplify the core value-adding tasks for the electrical installation, Rosendin's shop often puts together small assemblies, such as wall boxes. If field installed, a worker would need the junction box, mud ring, strap(s) to attach to the adjacent studs, screws to connect them, conduit coupling(s), the conduit or MC cable for the raceway and possibly other pieces depending on the wall assembly. By assembling these in the shop, the field installation simply requires one component and the screws to connect that assembly. The worker is thus better able to focus on the quality and location needs of that project when setting the box.
This also removes waste by reducing the number of pieces and tools the worker needs to manage while completing the task. Additionally, this process removes scenarios where one of these pieces is missing, requiring the worker to return to the material laydown area to collect the necessary item(s). These assemblies also reduce the amount of trash generated at the project site – saving field labor valuable time.
One key effort to enable this approach is standardization as a solution to reduce variation. Rosendin standardizes these assemblies and components so the boxes, materials, and connection locations are consistent across projects. In their prefabrication shop, they prepare components in kitting packages for their field personnel. However, they usually need to balance the components and kits for each specific project based on the project circumstances.
Rosendin is thorough in the organization of job boxes. Different parts are sorted under categories, making the process of finding a specific item much easier for the installer.
Combining this organization with visual management techniques makes it easy to recognize which materials or items are being used to maintain a 'minimum' stock needed for tasks between deliveries of materials.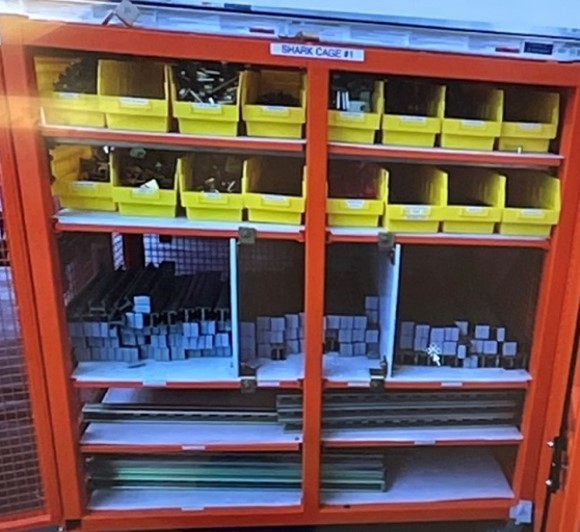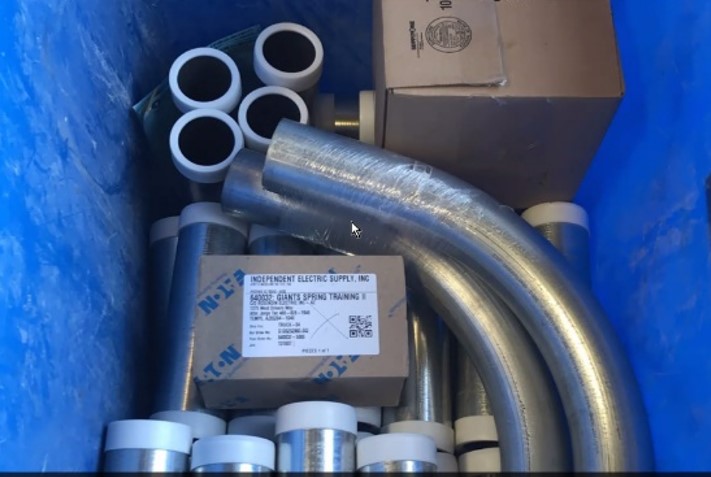 When sending the assemblies out to projects, the shop groups assemblies by area and puts the assemblies onto wheeled carts or cages. By grouping the assemblies, supporting pieces, or materials together, workers are able to quickly gather the items they need to work without interruption. It also saves them time and effort by keeping their materials for current and future tasks close at hand.
The use of wheeled carts provides ergonomic benefits by helping workers reduce their reliance on carrying heavy materials. The carts can be easily shifted between areas to keep them close at hand, and they are wheeled and easily movable – so if they happen to be in the way of another trade or group, it does not take much time or effort to move them.
They also established "Grab and Go" kits on some projects for the installation process of certain systems. Under this strategy, all necessary small pieces and parts for a specific electrical task, such as running a ¾" conduit, are sorted in a kit. This way, workers on a given task can grab that kit and easily take them to where the work is being done as they move along a run of conduit or circuiting. The kit has all the necessary items and they could be sent back to the materials space to be restocked on an as-needed basis.
Conclusion
In Rosendin's case, the successful adoption of Lean methods into their operations appears to stem from simplifying complex methods and techniques. For instance, when there is uncertainty in a project schedule, it can be challenging to scale up their prefabrication procedure. To mitigate this, Rosendin seeks to prefabricate into smaller standard work or kit as much as possible in their shop facility. By unbundling the pieces, conversations can focus on specific techniques that are applicable to a very specific task or area of waste.
Moreover, Rosendin's approach successfully creates constructive interactions between Lean methods. For instance, they combine standardization and prefabrication with visual management techniques.
Using Trello as a virtual Kanban board, they can manage the day-to-day production. The prefab shop receives orders through email and posts them to the Trello board so that the people engaged in the process can see what parts have been done and what parts are currently being assembled with specific dates. They also include pictures, drawings, and any other data related to each prefabricated part in the Trello platform to have complete info on each part. The board further serves as institutional memory with past examples of prefab requests, examples, and scopes.