The Daily Huddle is a structured meeting with the goal of coordinating tasks and communicating information with the project team in a near-term scope. The meeting is usually brief, informal, but frequent – often daily. This technique is used for communicating and for the project team's everyday meeting process to accomplish workers' involvement.
Application
The daily huddle is a short, daily meeting to convey information updates, confirm or coordinate daily tasks, and to identify and resolve issues.
Due to the short target durations, meetings are often held as 'stand-up' meetings to ensure quick updates. During these meetings, key information such as safety concerns, important deliveries, or last-minute changes can be quickly shared with the team.
Rules for Great Daily Huddle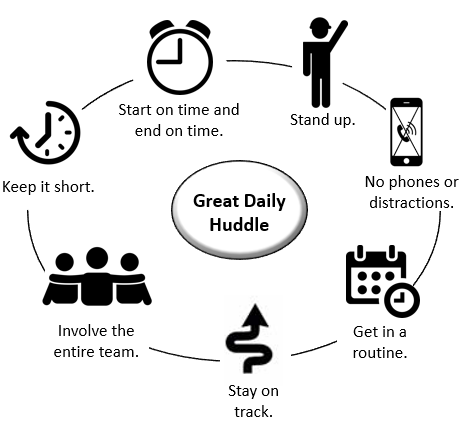 Best Practices
Use a dedicated facilitator for an effective and productive meeting.
Focus on the How, not the Why. Try to produce solutions-based discussions instead of status-based presentations.
Engage everyone who attends.
Process
To effectively conduct the meeting, encourage everyone to attend the daily huddle. Make this activity a daily practice to instill a sense of commitment among all employees. Use ice-breaking strategies by beginning the discussion with good news that brings a positive vibe, or a light topic that allows everyone to have a good laugh. Then you can continue with topics related to safety, project progress, deliveries, inventories etc.
Do
Keep it short and solution-oriented.
Stick to the agenda.
Start on time and end on time.
Ask questions that will encourage your employees to be proactive.
Make sure participants aren't interrupting each other.
Don't
Forget that the details matter.
Use daily huddles as a venue to scold employees.
Try to use daily huddles for problem-solving, which requires discussion and a thorough review of all options. If problems are brought up, quickly determine a different time and place to dive into those topics further.
Business Drivers
Improve the performance and engagement of employees.
Improve internal communication among team members to address issues on a regular basis.
Benefits
Keeps the team connected and maintains healthy team dynamics.
Streamlines communication to ensure messages are easily understood.
Provides an open exchange of thoughts.
Reduces interruptions and rework.