Huddles for Process Improvement
Daily huddles among field crews are a tradition for discussing the completed work, the tasks and needs for the day, and emerging challenges or safety needs. For many field teams daily huddles are starting to offer a place to think about and discuss how to improve your work in small increments, every day. This site is intended to serve as a forum to collect resources, videos, and stories about these small wins.
Whether you are engaged in multi-trade meetings, participating as part of formal Last Planner System® Meetings, or are a lone tradesperson looking for a better way to do your work, we invite you to read, watch, and use these ideas to find your own wins to make your work better. We also ask that you capture and share your field wins with the community by submitting videos of your ideas and improvements!
Do you wonder why Lean ideas seem to live and die on project sites? We want to help remove the barriers and silos, see what you do, and promote it – all while helping others get better.
A Collaborative Platform
This site serves as a platform for sharing methods, improvements and lessons learned on project sites or shops through simple visual content and short videos. It houses step-by-step guidance to use methods, and video examples from your colleagues, to allow you to start improving today. To support your work, the content on this site focuses on practical methods and easy-to-follow steps that will let you dive right in. The site format and YouTube videos are intended to provide access to the resources and information in the field – just when and where you need it!
Share Your Knowledge
Already familiar with Lean and using it on your project? Jump into the conversation and start sharing your feedback, Lean ideas and improvements with the industry through your own videos and examples.
Finding Your Lean Method
The adoption of Lean into a specialty trade contractor requires both the understanding of the principles of Lean, and the methods that allow the principles to be used. The purpose of this handbook is to introduce a core set of lean methods that provide immediate value in the operations undertaken by the specialty contractor community, with an emphasis on methods that will serve to add value and remove waste in field construction activities.
Benefits of Adopting Lean Methods
In interviews with Lean experts, the most cited benefit from Lean methods for trade contractors is happier people (collaboration and empowerment are also amongst the top five reasons).
The use of Lean empowers workers, notably the craft workforce, in the ownership and improvement of their daily work. Further, the use of Lean enhances safety, productivity and the ability to complete projects on time.
Despite these many benefits, much of the emphasis of Lean research and training focuses on project-level or General Contractor (GC)-led methods rather than methods that should be implemented by the trade community. This website seeks to introduce methods that are focused on the scopes performed by trades and methods they can adopt to improve.
Using Lean Methods Within Your Sphere of Influence
One of the key concepts when identifying the relevant methods is understanding your sphere of influence. We strongly encourage sharing ideas and suggestions with your colleagues within your project or firm. However, we suggest you focus first on adopting the methods that relate directly to your work and your tasks.
First, improving your own workflow and processes provides you with an immediate reward both through the satisfaction that comes with improving the quality and effectiveness of your work or those that work with you.
Second, you will drastically improve the effectiveness of your process if others express interest in the improvements you have made.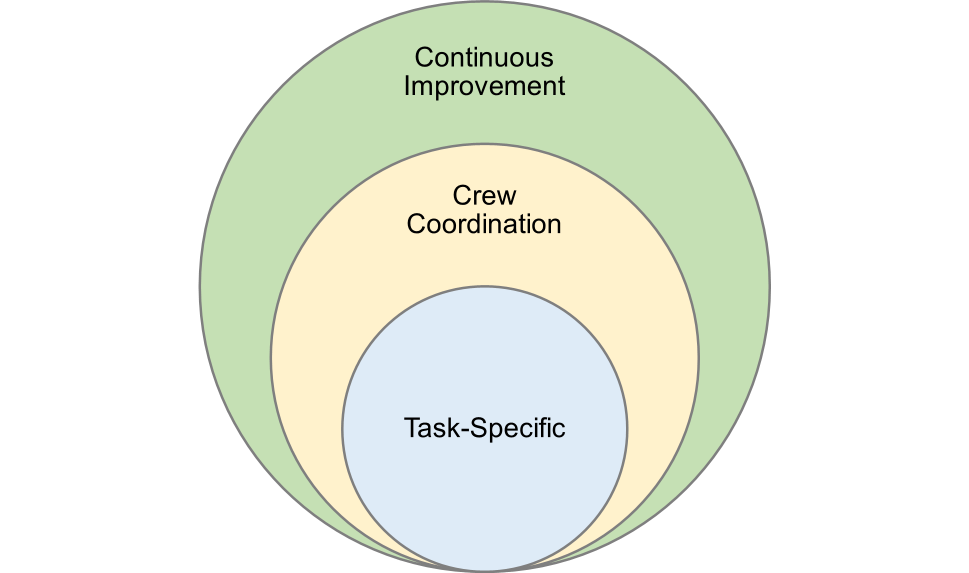 Task-specific methods are methods that one person can use to improve their own work processes. Examples include organizing methods for materials and tools, standard work to improve the speed and efficiency of execution, or the 8 Wastes as a lens for recognizing inefficiencies and misused resources.

Crew Coordination methods support the improvement across a group or crew of workers. Methods such as visual management or daily huddles allow quick but effective communication that get a team on the same page.

Continuous improvement methods capture broader concepts that help recognize and systematically solve problems at many levels, from individual tasks or crew coordination to projects-level or processes within a company.
Project Teams Lean Planning
For project teams that are developing the approach to Lean across a project, a Lean Deployment Plan defines the formal plan for defining the Conditions of Satisfaction, selecting the team's Lean methods for the project, developing the implementation for each of the methods, and integrating those plans into a strategy for enhancing the value creation for the project.
Featured Videos
A Trade Owner Talks Planning & Scheduling
LCI Pipe Bending Wire Whips