The Weekly Work Plan (WWP) is a collaborative agreement on the production tasks for the next week. The WWP is based on lookahead planning and should include only quality assignments (those that are well defined, sound, in the proper sequence, and sized to capacity).
Application
The WWP is formed based on the mechanism of Last Planner System® (LPS®), which aims to transform what should be done into what can be done, thus forming an inventory of ready work. The WWP meeting covers weekly plans, safety, quality issues, resources, construction methods and any problems that occur in the field. It promotes two-way communication to share information on the project efficiently and accurately.
Weekly Work Plan Overview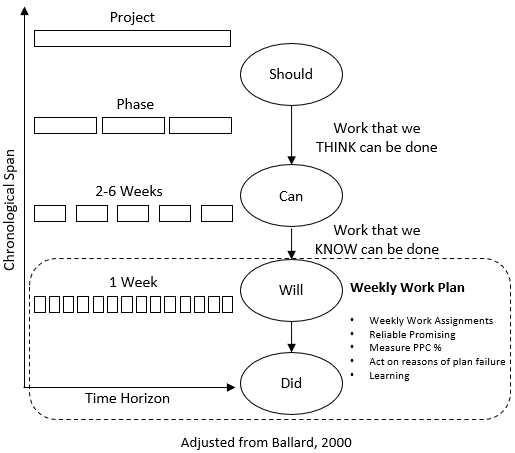 Best Practices
Establish the work that will be performed based on the promises of specific individuals.
Connect and visualize the big picture.
Plan a time and track time spent on each task.
Use color-coding to aid visualization.
Process
The WWP process starts with listing big-picture goals. Afterwards, decide what is needed to meet those goals.
WWP generally consists of three main parts:
Overview of jobs/tasks that have been completed in the past week.
Overview of jobs/tasks that need to be completed in the coming week.
Analysis of the root causes for schedule delay and associated countermeasures.
Do
Choose a regular day and time to conduct it (Friday afternoon is a good day for this – you can review your weekly accomplishments and plan ahead for the next).
Stick to the plan. Reschedule the tasks that weren't completed.
Review and optimize the plan when the priorities change.
Don't
Over-schedule your time.
Forget to include buffers (build in time for the unexpected).
Business Drivers
Communicate progress.
Plan the following week and make ready for the future.
Explore and identify any interdependencies between resources, access and equipment.
Maximize use of resources.
Benefits
Increase productivity.
Prioritize work more effectively through visualization.
Build a commitment to the program and reduce the overall program period.
Enable teams to test options to improve workflow, buildability, and program reduction.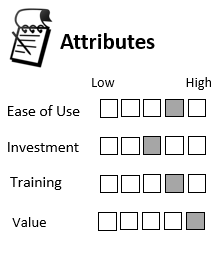 Complementary Methods
Last Planner System® (LPS)
Root Cause Analysis